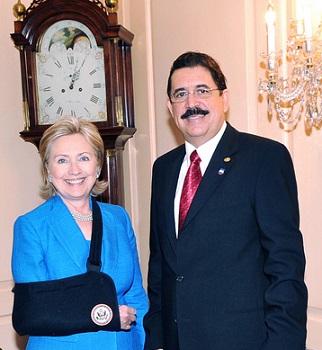 In all the excitement over Van Jones' resignation, people missed President Obama supporting Communists abroad, as he did at home. Late last week, SSINO (Secretary of State In Name Only) Hillary Clinton met with ousted Honduran President Manuel Zelaya and cut off all remaining funds for Honduras' government: $30 million now, and $215 million over four years. Leftists are pushing for the IMF to follow suit.
In addition to being part of the Castro-Chavez axis, Zelaya sought to subvert the constitution — and he stands accused of running drugs. Honduran Foreign Minister Enrique Ortez told the press, "Every night, three or four Venezuelan-registered planes land without the permission of appropriate authorities and bring thousands of pounds" of cocaine and cash. Which Zelaya wants to legalize. Last October, he said, "Rather than continue to kill and capture traffickers, we could invest in resources for education and training."
The drug link is not news to the Obama administration. In February, the Obama-Clinton State Department declared "official corruption continues to be an impediment to effective law enforcement" on narcotics. The Wall Street Journal further sketched his supporters' ties to South American narcoterrorists FARC.
No wonder Venezuelan strongman Hugo Chavez says, "With Obama, we can talk…He's intelligent, he has good intentions, and we have to help him."
Contrasted with Zelaya, the new, cash-strapped Honduran government has broken diplomatic ties with Venezuela and Argentina. Argentina is headed by President Nestor Kirchner, a leftist the Communist Party USA's house organ, Political Affairs, calls "a central player in the hemispheric drift…towards a socially conscious and state-centric model."
Yet Obama and Hillary entered discussions with Zelaya only to emerge following his orders. Shortly after the constitutional crisis (which he provoked), the administration followed El Presidente's "suggestion" they get tougher with the Roberto Micheletti government. What did they get in return? One of Zelaya's top aides accused the United States of staging the coup.
Of MSNBC's crack pundits, Rachel Maddow mentioned the Hillary-Zelaya summit — for just over one minute. Her analysis included discussing Zelaya's cell phone and joking about the words "bull puckey."
Obama again rewarded bad behavior through Hillary. As at home, the president is comfortable with radical leftists, Communists, Islamists and extremists while he remains hostile to traditional U.S. allies. But you'll never learn about it from the "mainstream" media.
This article originally appeared on Tuesday, September 8, 2009, on NewsRealblog.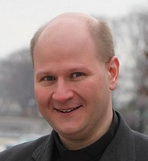 Ben Johnson is U.S. Bureau Chief of LifeSiteNews.com, the guest host of "Nothing But Truth with Crane Durham" on AFR Talk Radio, and the author of three books. His personal website is TheRightsWriter.com. Connect with him on Facebook and follow him on Twitter.