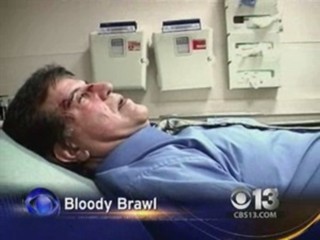 Ken Hamidi, after a bloody SEIU brawl
As the nation waits to see when or if SEIU members involved in a physical confrontation with Kenneth Gladney outside a health care town hall meeting in August will be prosecuted, another allegation of union violence has cropped up. A California state worker went to the hospital bloodied and bruised Thursday night as a result of a beating administered in an SEIU union hall. Kourosh Kenneth "Ken" Hamidi says four or five members of the Service Employees International Union Local 1000 assaulted him as he entered their Sacramento meeting with a video crew for his public access TV show.
Hamidi says union leaders ordered him to be attacked, while Local 1000 leaders claim Hamidi assaulted the union members first. Police Sgt. Norm Leong told the media, "The statements we received kind of conflict about who started it and who provoked it." What is beyond dispute is the video that shows multiple rank-and-file attacking Hamidi on the floor.
Ken is a reporter for SHOUT TV (Strength Holds Our Unions Together) and an indefatigable critic of what he considers local union corruption. A native Iranian who came to America in 1978, Hamidi ran for president of Local 1000 last May. He has since shot a number of episodes informing state employees of their rights to object to non-germane uses of their forced union dues (e.g., political lobbying for the Left) and criticizing everyone from local leaders to SEIU President Andrew Stern.
He says the beating was to silence his work.
Hamidi has a history of activism in his new country. He is best known for winning a 2003 California State Supreme Court case against his former employer, Intel, that supporters claimed safeguarded freedom of speech on the internet. In 2003, he ran as a Libertarian Party candidate for governor of California.
San Francisco media report Hamidi has had problems with the truth in the past. But so have surly union members unhappy with media coverage. However, Hamidi says eyewitnesses will verify his side of the story.
We will be watching to see when, if ever, these two SEIU assault cases are resolved and how the defendants, if guilty, are brought to justice.
In the meantime, will leaders of the Democratic Party condemn this culture of violence? Will the Obama administration — which has made Andrew Stern its most frequent visitor — prosecute these attacks as hate crimes against conservatives? For all the Left's hand-wringing about alleged conservative injunctions to violence, the only real violence to surface thus far has emanated from other sources.
This article originally appeared on Saturday, November 7, 2009, on NewsRealblog.