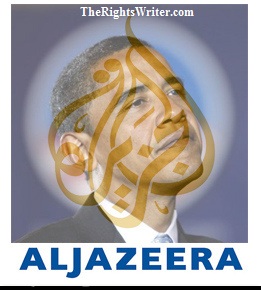 One of the Obama administration's top priorities is "diversifying" the nation's airwaves. Its commitment to public broadcasting and outreach to Muslims has made the unthinkable possible: This week, publicly funded Pacifica Radio will begin airing an hour of "news" from the radio affiliate of Al-Jazeera television. AJE news will be heard early in the morning in three of the network's five markets — including New York City. The network's remaining two affiliates — including WPFW in Washington, D.C.– will pick up the AJE broadcast early next year.
By 2011, the voice of Osama bin Laden's preferred network will be heard in two of the three 9/11 attack sites at taxpayer expense.
According to the Corporation for Public Broadcasting's 2009 Annual Report, taxpayers gave Pacifica Radio's five stations nearly $1.6 million last year alone, down slightly from $1.75 million in 2008. The station-by-station-breakdown is as follows:
| | | |
| --- | --- | --- |
| Pacifica Station | Federal Grants (2009) | Federal Grants (2008) |
| WBAI-FM (New York) | $359,915 | $461,299 |
| WPFW-FM (D.C.) | $238,381 | $332,229 |
| KPFA-FM (Berkeley, CA) | $451,009 | $359,907 |
| KPFK-FM (Los Angeles) | $382,035 | $425,029 |
| KPFT-FM (Houston) | $160,529 | $174,088 |
| Total: | $1,591,869 | $1,752,552 |
Showing incredible insensitivity, Pacifica Radio's executive director, Arlene Engelhardt, hailed the move as a cultural Close Encounters of the Third Kind. "It will give our listeners a little different perspective than an American network," she said correctly. She added, "We have a tradition of looking for alternative points of view." That they have.
Radio Pacifica: Communism is on the Air
Radio Pacifica has long hosted the political far-Left at public expense. The institution was recently headed by Leslie Cagan, a Castro admirer who maintained her membership in the Communist Party after the fall of the Berlin Wall. This author was the first to report she and Code Pink founder Medea Benjamin established International Occupation Watch in Baghdad in 2003 in the hopes of convincing American soldiers to declare themselves conscientious objectors and get sent home. Occupation Watch also spread stories of alleged U.S. atrocities against Iraqi civilians. Cagan and Benjamin joined forces one year later when they delivered $650,000 in cash and supplies to "the other side" in Fallujah. (Again, this author was the first to report this.)
In 2009, under arcane rules, Pacifica Radio's New York affiliate, WBAI, elected convicted terror lawyer Lynne Stewart to its Board of Directors. Her election took place shortly before being ordered to begin her (light and long overdue) jail sentence for passing messages between convicted terrorist, "The Blind Sheikh" Omar Abdel Rahman and his Islamic Group, ending a ceasefire with the secular Egyptian government.
In the midst of her trial, the National Lawyers Guild — once described as "the legal bulwark of the Communist Party" — asked Stewart to give the keynote address at its "Cry Justice" conference in October 2003. After likening its attendees to King David, Beowulf, and Sir Galahad, she made a more apt comparison:
And modern heroes, dare I mention? Ho [Chi Minh] and Mao [Tse-tung] and [Vladimir] Lenin, Fidel [Castro], and Nelson Mandela and John Brown, Ché Guevara…Our quests like theirs are to shake the very foundations of the continents.
The radicalism of its board is only muted by the insanity of its programming. This Memorial Day, its most widely known program — Democracy Now! hosted by Amy Goodman — featured a rant by the most cited academic in America, Noam Chomsky. Chomsky denounced "the great killer and torturer Ronald Reagan, one of the grand criminals of the modern era" and a "monstrous creature." Sadly, that is but the tip of the iceberg of Pacifica's radicalism.
Now, as in so many other instances, the radical Left has to appeal to a network that regularly features terrorists in order to find someone who hates America as much as we do.
This, with Juan Williams' firing, and the FCC's drive to push Rush Limbaugh off the airwaves, should give conservatives new impetus to defund the Corporation for Public Broadcasting completely. It is hardly a coincidence that publicly controlled airwaves, a pillar of the Soviet system, promote socialism on our airwaves. It is, however, economically insane and morally offensive that Americans must continue paying for it during a time of massive unemployment and endless deficits.