SELMA, AL, October 4, 2011 (TheRightsWriter.com) — Sometimes groundbreaking evidence is rendered superfluous because it proves something everyone already knows. A stained blue dress only verified what the public had long assumed about President Clinton's extra-curricular activities. When former Republican National Committee chairman Ken Mehlman came out of the closet, the world yawned. Earlier today, Andrew Breitbart posted photographs of Barack Obama marching with the New Black Panther Party. At a March 2007 re-enactment of the famous march in Selma, Alabama, Obama shared a podium with NBPP leader Malik Zulu Shabazz, whose members, Breitbart writes, came to the rally specifically to support Obama's presidential candidacy. The photos prove Obama had no qualms speaking alongside black racists and probably shares at least some of their radical outlook — something taken for granted by anyone paying attention to him since he first announced for president.
The first of three photos Breitbart posted at BigGovernment.com shows Shabazz speaking to the protesters.
The second shows Barack Obama speaking from the same podium so recently graced by the racist hatemonger.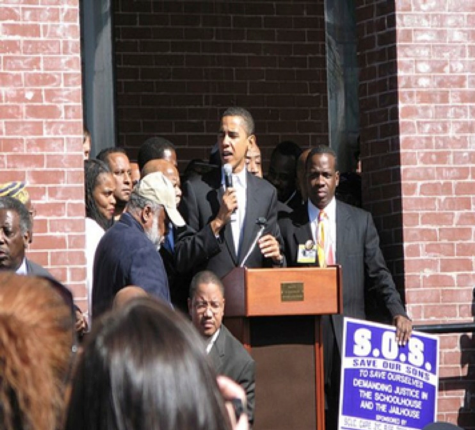 After their speeches, Breitbart writes, they "departed together with Obama for the main march itself, as shown by this grain[i]er image captured from YouTube":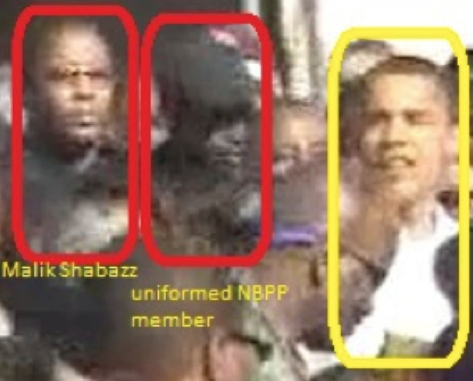 Just over a year later, in May 2008, Shabazz reminisced about meeting Obama on John Batchelor's radio show, where Shabazz made clear Obama spoke their language.
[W]hen he was in Selma, when he spoke at the black church there and he was able to again draw out of the tenets of black liberation theology. Because he was teaching about the story of [inaudible – Jesus?] and Moses and Pharaoh and the children of Israel and the Pharaoh as it is written in the Torah or the Old Testament. And he was drawing the comparison to the struggle for justice through slavery here in America and comparing us to the children of Israel. And so I knew that he had a…a based in some sound theology that is rooted in our community. And at that point I knew that he…he understood what was going on.
Where are the media's cries of "dog whistle" racism, which they regularly uncork at conservatives like Sarah Palin, Glenn Beck, Michelle Malkin and others?
(Story continues following video.)

The march was apparently not the only meeting the Panther held with the president. Malik Shabazz visited the White House in July 2009.
Although the photographs are worthy additions to the "Obama really is a radical racialist" canon, they do not prove anything new. Obama sat 20 years in Jeremiah Wright's church. His administration went to great lengths, possibly including perjury and obstruction of justice, to see the voter intimidation charges dismissed against two nightstick-wielding Black Panthers in Philadelphia.
As president, Obama praised the phony, racist holiday of Kwanzaa, particularly promoting the concept of umoja, which the holiday's convict creator (Ron Everett/"Maulana Karenga") defines as black racial unity.
Obama has a preternatural obsession with America's "tragic" history and its "fundamental flaw," the U.S. Constitution.
He appointed self-described Marxist "revolutionary" and conspiracy nut Van Jones as Green Jobs Czar, and continued to enact his policy of stealth reparations after allowing Jones to resign.
Throw in his obsession with racial issues generally, and one can hardly be surprised the Black Panthers supported him…nor, evidently, vice-versa.

Ben Johnson is U.S. Bureau Chief of LifeSiteNews.com, the guest host of "Nothing But Truth with Crane Durham" on AFR Talk Radio, and the author of three books. His personal website is TheRightsWriter.com. Connect with him on Facebook and follow him on Twitter.