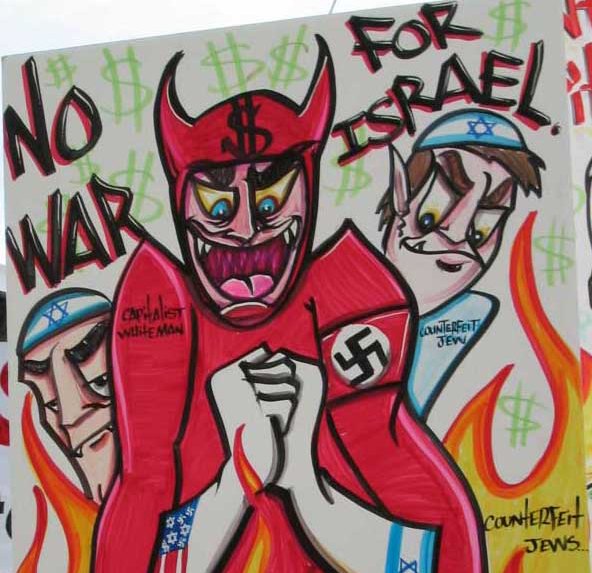 A sign from the February 16, 2003, rally shows "counterfeit Jews" setting the world aflame.
One of the senior leaders of President Obama's presidential campaign worked with Marxist-led groups to organize rallies in the San Francisco area, including a demonstration that barred a progressive rabbi from speaking because he believes Israel has the right to exist.
Buffy Wicks, who currently serves as the Obama campaign's National Operation Vote Director, also served as Western States field director of the Obama campaign in 2007-8.
In a 2007 training video shot with Obama campaign volunteers, Wicks is seen saying she "got really sort of disillusioned with the Democratic Party" because its leadership voted for the authorization of force against Iraq in October 2002. So, she aligned herself with the radical Left.
"I actually was living in San Francisco and started doing antiwar organizing here," she said. "Did anyone here participate in a lot of the marches and stuff that happened in San Francisco? Great. So, I was the person stage managing a lot of those, you know, getting Joan Baez to go out and do some songs and sort of making it a big issue…I was doing a lot of antiwar organizing."
Baez, the Sixties folk singer, participated in two early antiwar rallies in San Francisco, both managed by dedicated Marxists.
(Story continues following video. Relevant portion begins at 4:33.)
Baez sang at the February 16, 2003, antiwar rally, which was "co-sponsored" by four radical organizations: International ANSWER, United for Peace and Justice, Not In Our Name, and Bay Area United Against War.
International ANSWER (Act Now to Stop War and End Racism) is a front for the Workers World Party's International Action Center, headed by former Attorney General Ramsey Clark. International ANSWER, a socialist sect, has supported such tyrants as Kim Jong-il, Slobodan Milosevic, and Saddam Hussein.
United for Peace and Justice (UFPJ) was led by Leslie Cagan, a "red diaper baby" who made a pilgrimage to Castro's Cuba and founded the Committees of Correspondence for Democracy and Socialism, a Communist Party USA splinter group. A year after the rally, she and fellow radical Medea Benjamin would deliver $650,000 of cash and supplies to "the other side" in Fallujah, where Iraqi "insurgents" waged a bloody war against American soldiers.
Cagan and Benjamin also set up the International Occupation Watch in Baghdad, an effort to have soldiers declare themselves conscientious objectors and get sent home, so the war effort would falter. In 2007 she said, "We have so much to learn from the history of the Communist Party," she has said. After leaving UFPJ, itself highly critical of the state of Israel, Cagan served as coordinator of the 2011 flotilla served to break the blockade of Hamas-controlled Gaza.
Not In Our Name (NION) was led by Maoist radical C. Clark Kissinger of the Revolutionary Communist Party (RCP), an organization considered extreme and violent even by fellow Maoists.
It is not known under which of these organization's auspices Wicks performed her stage managing. However, Baez also participated in a January 18, 2003, protest sponsored by International ANSWER. A photograph of the February rally depicts Baez behind an International ANSWER banner.
"This is not simply a protest against war in the eyes of the organizers," said Ernest H. Weiner, executive director of the San Francisco chapter of the American Jewish Committee. "If you look at the speakers, it's a cross-section of the most militant, most determined anti-American people in the Marxist contingents."
International ANSWER is known for restricting access to its platform to like-minded groups and individuals who share its ideology. It is inconceivable one could collaborate as a leader or stage manager of "a lot" of its events without sharing its radical outlook.
The February 2003 rally caused national outrage when far-Left Rabbi Michael Lerner of Tikkun magazine said ANSWER banned him from speaking because of his views on Israel. Although a harsh critic, Lerner believes in the Jewish state and encourages Palestinians "to follow a path of non-violence."
Lerner had said ANSWER "used the anti-war demonstrations to put forward anti-Israel propaganda" and create "an atmosphere that is intimidating to many Jews at these rallies."
The denial was particularly stinging, as Rabbi Lerner was on NION's advisory board. A petition circulated on the left-wing Nation magazine to allow the rabbi to speak attracted more than a thousand signatures within days.
ANSWER responded that Rabbi Lerner had not been "blackballed" but simply not invited to speak, because he had "publicly attacked" the organization. They added other rabbis were invited to participate.
Many observers found this unconvincing. Among them was Nation's David Corn, who noted that ANSWER's media coordinator appeared on a New York radio show and said, "I know that the ANSWER coalition would not have a pro-Israel speaker on its platform."
The rally's tone was anti-American, as well as anti-Israeli – and in some cases, anti-Semitic.
The Anti-Defamation League noted, "In San Francisco, a larger number of protestors waved placards with messages attacking Israel. A few of the messages, while not representative of the tone of the rally, were anti-Semitic." One sign, headlined "No War for Israel," denounced "Zionist Pigs" as "counterfeit Jews" watching approvingly as a "capitalist white man" set the world in flames.
Although Rabbi Lerner had no place on the speaker's dais, a Muslim speaker wore a keffiyeh loosely around his shoulders.
Buffy Wicks can be seen standing behind Joan Baez at 7:48 of this video of that February 2003 rally.
(Story continues following video.)
Other participants vented their anger at the United States. A female speaker on stage said the world's problems had one thing in common: "Us. U.S.! We are the problem, and attacking Iraq is not the solution." A Muslim speaker told the crowd, "The Muslim community is living in a virtual concentration camp today."
Actor Danny Glover quoted the late Paul Robeson, an unrepentant Stalinist. A sign in the crowd featured a defaced American flag surrounded by the words, "This racist flag enslaved Africa, stole land from the Chicanos and Native Americans, dropped weapons of mass destruction on Asian peoples!"
The February 2003 march that Wicks boasted of stage managing was supported by: The Freedom Socialist Party; Socialist Action; International Socialist Organization; Socialist View Point/Socialist Worker Organization; Socialist Organizer; Lynne Stewart, a Marxist attorney, was convicted of passing on messages from an Islamic terrorist leader to his followers in Egypt. Medea Benjamin, who boasted of her role in organizing the violent 1999 Seattle World Trade Organization riots; and the co-chairs of the movement to free cop-killer Mumia Abu-Jamal.
In the 2007 video Wicks alludes to taking part in other San Francisco Marxist-led rallies, at least until the advent of the war.
Van Jones, who would go on to be Obama's Green Jobs Czar until word of his radical past came out, regularly took part in the city's antiwar marches, as well.
Jones' views have become well-known. As we shall see, Wicks' developed her own radical pedigree after years of study and activism on the far-Left, then brought it into the campaign – and the Obama White House – at the president's request.
This is the first in a series of articles about national Obama campaign leader and Obama administration appointee Buffy Wicks. Read part two and part three..
Ben Johnson is U.S. Bureau Chief of LifeSiteNews.com. The author of three books, Ben was Managing Editor of FrontPage Magazine 2003-10. He is also a regular on the AFR Talk network's "Nothing But Truth with Crane Durham." His personal website is TheRightsWriter.com.