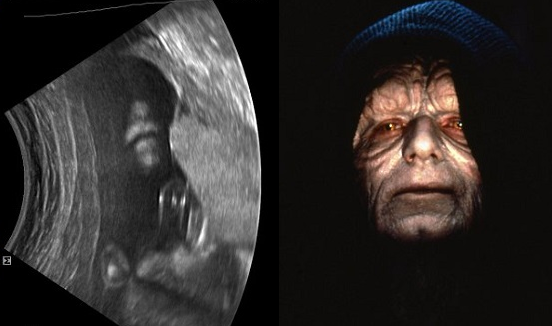 The impression a vivid ultrasound image can make is not lost on the pro-life movement, but even those far outside its orbit have taken notice of a picture of an unborn child who bears a striking resemblance to a science fiction villain.
When Heather and Toby Large of Illinois went in for a routine check-up of their unborn son, the process revealed a familiar face: Emperor Palpatine of the Star Wars saga.
Toby said, "At this point, everyone in the room had a laugh, including our eight-year-old daughter, Hannah, and the ultrasound technician."
By posting the picture online, they and their son inadvertently went viral, producing dozens of stories and countless views of the image.
Lucas fans began posting headlines such as "May the Face Be With You," "Conceived with Evil," and the warning "2013 is the Year Emerpor Palpatine will be Unleashed Upon the World."
Even at The Huffington Post, which contends that having people look at ultrasound images is part of the "war on women," got in on the act.
Despite his fearsome fetal features, baby Bowie is now eight months old – playful, handsome, and devoid of any trace of supernatural evil. You can see his current visage here.
The dueling images of Bowie "Palpatine" Large silently convey the experience of parents, family members, and friends around the world. Even when images in the womb look the most foreboding, promising a child who appears to be in some way subpar, life is a beautiful surprise.
Cross-posted at LifeSiteNews.com.