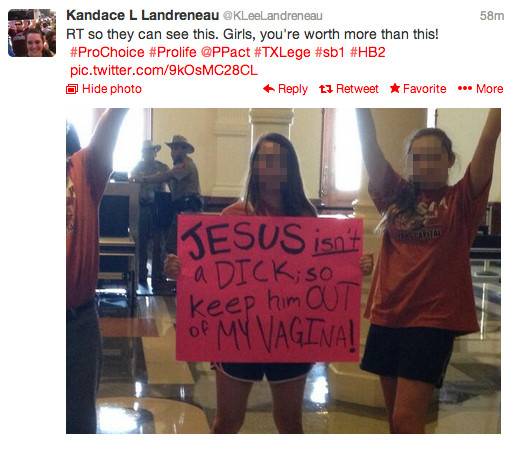 July 24, 2013 (TheRightsWriter.com) – The girl behind the most disgusting sign in the Texas abortion bill showdown has gone public.
On Monday, young Tuesday Cain wrote an op-ed for the feminist website xoJane.com under the rather lengthy headline, "I'm the 14-year-old who wrote the 'Jesus isn't a d–k so keep Him out of my vagina' sign in Texas and was labeled a 'whore' by strangers online."
Wendy Davis: Inspiration of vulgar signs
Miss Cain said that Wendy Davis really deserves the credit for her sign. Davis' 11-hour filibuster so inspired her that she told her family she had to go to the state capitol in her hometown of Austin to #StandWithWendy.
Tuesday was not the only one inspired. "In fact, my dad woke me up so that I could watch the Wendy Davis filibuster the night that she tried to prevent this legislation from passing the first time," she wrote. "I remember thinking that I was proud to be from Texas watching her stand up for what is right."
That struck me as a little odd, since Davis' filibuster began at 11:18 a.m. local time and ended around midnight. Perhaps Tuesday is an early sleeper and missed the first nine hours of the much-reported event.
Nonetheless, Tuesday wrote that when she saw the pink sneaker-clad Democrat, "That was when I told my parents that I wanted to join in the protests."
I protest so other women can know the pain of post-abortion syndrome
She says an acquaintance's post-abortion syndrome also spurred her on. "I know someone who has had a few abortions. She now says that abortion is bad, and she fights against a woman's right to choose," she wrote. Somehow that "makes it all the more important for me to protest" in favor of abortion-on-demand, presumably so other women can suffer the same grief.
Whatever her motives, she made a splash once she arrived.
Miss Cain wrote that she came up with the sign's slogan "last week when my friend and I were trying to think of ideas for what would get people's attention to protest the scary restrictions" being proposed by the state legislature, such as assuring that a doctor who punctures a woman's uterus with a scalpel has the ability to send her to a hospital in the local area. (Scary.)
Then the victimology began.
The very first day she and her friend held this thoughtful sign, she claimed, "an older man" came up to them and began "yelling right in our faces, 'You two should shave your heads! You should become lesbians! No man will ever want you! You're ugly!'" Police had to tell the man to stop, leaving them "scared," she said.
This tale may have occurred – pro-lifers can be poorly behaved at times, to be certain. But I have not read of any similar event in Austin. I had read reports of Davis' demons screaming "Hail Satan!" as pro-lifers sang "Amazing Grace." Others shrieked, "F— the church!" In fact, the Family Cain's side prevented the bill from passing during the first session by shouting down lawmakers and shutting down the legislature's deliberative process. In the special session, they threatened to pelt pro-life legislators – and anyone else who got in their way – with jars of urine and feces,as well as bricks, condoms, and tampons.
And, of course, encouraging women to become lesbians doesn't sound like something a Christian is likely to do. But her tale of woe had only commenced.
Father of the year award
After the picture of her handiwork went viral, she was "disappointed" that anonymous people on the internet called her a "wh-re" despite the fact, she volunteered, that she is a virgin and intends to remain one.
One may hope she will hold to that. But her father, Billy Joe Cain, who publicly said he was "proud" of her actions, appears to be resigned that she will not. When a commenter on his Facebook page said boys would be attracted to his daughter, he said he hoped "some of the principles we've instilled in her will pay off. But hey, that's what teenagers do!" 

Readin', Ritin', Rules for Radicals
She wrote that her experience – which her father portrayed as a form of hands-on civic education – has made her lose her faith in adults. "And I certainly don't look up to anyone who says they are [sic] Christian but treats [sic] women the way I've been treated these past few days as a teenage girl," she wrote.
Grousing that one's opponents are not Christian enough, while maligning them in an immature and potentially blasphemous way, is literally right out of Saul Alinsky's handbook. The godfather of community organizers wrote in Rules for Radicals, "The fourth rule is: Make the enemy live up to their own book of rules. You can kill them with this, for they can no more obey their own rules than the Christian church can live up to Christianity." He dedicated his book to Satan.
If Tuesday Cain believes she has suffered unduly at the hands of Jesus' followers, imagine if she had made a sign comparing the "Prophet" Muhammad to human genitalia. She would see how civil the adherents of the Religion of Peace can be, even in her native Texas.
She wrote that did not deserve the backlash, adding that she is like other teens. "I like art, music and talking on the phone with my friends," she said. She stated, "I'd like to become a science teacher," in which case she may do well to consult this list of 15 college-level science books, written by experts, that uphold the scientific and bioethical consensus that human life begins at conception.
Her strange op-ed was published on Monday, the same day that her father wrote that he wanted to safeguard his daughter's privacy. He wrote that his minor girl, whose name he did not reveal in his piece in the UK Guardian, "would desperately like to start a Twitter account" under her own name "and share her opinions and spelling and grammar corrections of those posts online, but as a parental unit, we do not believe it would be a good idea. She can participate in that way soon enough."
Tuesday did not explain the apparent about-face. But the two editorials share two undesirable facets common on the lifestyle Left.
Victimology for fame and profit
First, the two opinion pieces tout their hurt feelings and alleged poor treatment as though they were an impenetrable shield, deflecting any responsibility for writing the intentionally provocative (and banal) placard. Liberals thrive on such tales of emotional pain, because they confirm their group identity as an enlightened elite besieged by the ignorant masses.
The Left thrives on the perception that its opponents rampage the landscape, blithely discriminating against its list of preferred victims and blowing up abortion facilities while plotting acts of domestic terrorism. When cultural conservatives are not evil, they are simply mean. That's why liberals are easy marks for every hate crimes hoax that comes down the pike: whether the stories are true or not, they should be true, they believe.
Second, being a victim has been a lucrative career path for many. The dueling editorials – one protecting his daughter's privacy, the other revealing her identity to all the world – reminds me of the odyssey of Ambassador Joseph Wilson and Valerie Plame. Plame, you may remember, had been outed as a CIA employee by antiwar conservative Robert Novak after Wilson wrote a New York Times article about Iraq's nuclear policy.
Mr. and Mrs. Plame-Wilson quickly parlayed their victimhood into celebrity status on the Left.
Wilson teared up, telling his wife at the National Press Club, "If I could give you back your anonymity…I would do it in a minute." Hetold the late Tim Russert, "My wife…would rather chop off her right arm than say anything to the press, and she will not allow herself to be photographed." Plame promptly posed forVanity Fair, both arms proudly exposed, followed by granting a number of interviews and ultimately writing her memoirs. So secretive was her status that one of her twinsshouted, "My daddy's famous; my mommy's a secret spy!" in a crowded airport, according to a reporter for Reuters.
Wilson and Valerie Plame simultaneously filed a laughable lawsuit for violating her privacy and milked their plight to become a high profile power couple, culminating in a series of books and a poorly received Hollywood biopic starring Sean Penn.
Billy Joe Cain is not as well-educated as Joe Wilson, as his literary output proves. (Any restrictions on abortion, he writes, constitute "the beginning of a very difficult, slippery slope to navigate.") But he seems to sense opportunity.
Papa Cain threw himself into the public limelight and recently revealed, "My daughter is currently designing T-shirts to help her get her feelings out through artwork."
These will undoubtedly be available for sale, at a modest price, soon.
Step right up, folks!
Or better yet, tell them their 15 minutes of infamy is up. Haven't we rewarded enough people who pander to the lowest common denominator, scream victimization, and then try to cash in?
Ben Johnson is U.S. Bureau Chief of LifeSiteNews.com. The author of three books, Ben was Managing Editor of FrontPage Magazine 2003-10. He is the guest host of the AFR Talk network's "Nothing But Truth with Crane Durham." His personal website is TheRightsWriter.com. Follow him on Twitter @TheRightsWriter and friend him on Facebook.