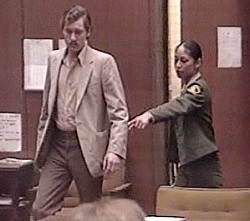 John Holmes about to testify about the Wonderland murders.
May 12, 2014 (TheRightsWriter.com) – Planned Parenthood is anything but starved for funds, but it's always looking to sink its teeth into new revenue streams. And it has proven in the past that taste and decorum pose no barrier to their cashing a check.
A St. Louis man has unveiled the newest benefit for the nation's leading abortion provider: A Pizza & Porno Party.
For five dollars, people can chew gooey mozzarella while watching the 1979 porn film Hot and Saucy Pizza Girls. The Riverfront Times reports, "the money goes to Planned Parenthood."
What could be less appetizing than watching a 35-year-old porn film in a darkened roomful of strangers? Knowing that your participation helps kill babies.
The event will take place at a bar called "The Crack Fox," a name that exudes class, sophistication, and full compliance with all relevant health and safety regulations.
"We're trying to promote a positive attitude towards sexuality and promote the very important services of a health clinic," Kloun said.
One of those "important functions" – at least, one of the few Planned Parenthood likes to talk about – is diagnosing sexually transmitted diseases, like those pandemic in the porn industry. One of the stars of Hot and Saucy Pizza Girls, the late John Holmes, died in 1988 from AIDS, a disease Planned Parenthood believes people have the right to conceal from their sexual partners. (Holmes reportedly exercised this option, making films after he knew he was HIV-positive.)
Periodic outbreaks of AIDS or syphilis have shut down the porn industry temporarily, and researchers at Boston University found that watching porn made young girls five-times more likely to engage in group sex. Porn mainstreams aberrant sexual practices and makes its viewers more likely to take part in risky sex that spreads disease.
In other words, this Kloun clown's fundraiser is a perfect match: Imbecilic culture, low-brow "entertainment," immature self-indulgence, and abortion – the murderous "solution" that covers up the consequences of sexual liberation.
Perhaps the most charitable thing that can be said is that this is not the most distasteful thing Planned Parenthood profits from.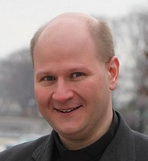 Ben Johnson is U.S. Bureau Chief of LifeSiteNews.com, guest host of "Nothing But Truth with Crane Durham," and the author of three books. His personal website is TheRightsWriter.com.
Cross-posted at LifeSiteNews.com.