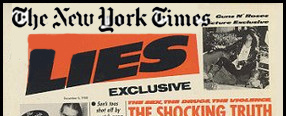 WASHINGTON, D.C., June 27, 2014 (TheRightsWriter.com) – If there were ever any doubt about the need for LifeSiteNews.com's accurate reporting to offset the media's political agenda, news coverage of this week's Supreme Court case should have settled it. From the Associated Press to the "newspaper of record," mainstream journalism misreported the story, imported irrelevant facts, and used language to fit its predetermined bias.
Take Richard Wolf's article in USA Today. "The victory by 77-year-old Eleanor McCullen and her fellow demonstrators didn't tip the balance on the court over abortion as a medical procedure. Roe v. Wade, the 1973 decision legalizing abortion, still stands," he wrote.
Wolf's off-topic aside is rather like saying that Germany's defeat of the United States in Thursday's World Cup game did not alter the outcome of World War II. Neither Roe nor the constitutionality of abortion was at issue in this First Amendment case, yet Wolf seems to feel a need to hold his own hand and reassure himself that the pro-life movement poses no threat to the Holiest Sacrament of the Lifestyle Left.
Then the media use selective facts to present certain parties in a favorable light. This was on display in the most widely read news service in the world, the Associated Press. Mark Sherman wrote, accurately, that "Eleanor McCullen and other abortion opponents sued over the limits on their activities at Planned Parenthood health centers in Boston."
Then, he helpfully adds, "Planned Parenthood provides health exams for women, cancer screenings, tests for sexually transmitted diseases, birth control, and abortions at its clinics." Note that the order – with abortion tucked carefully away at the end of the list, behind fighting cancer and disease – is entirely consistent with Planned Parenthood's efforts to repackage itself as merely "a place where women can go for low cost medical advice and care." It is not entirely consistent with the reality that Planned Parenthood is the nation's leading abortion provider, and "in 2012, abortions made up 93.8 percent of Planned Parenthood's pregnancy services." But such a portrayal helps present the abortion industry as a woman-friendly health system under attack from misogynistic religious fanatics.
As does the rest of Sherman's reporting. "Clinic officials said they are most concerned about safety because of past incidents of violence," he added. Yes, that is what abortion industry officials said. The more cynical among us might believe they are more concerned with the threat sidewalk counseling presents to their bottom line, a subject never ignored in AP coverage of any other industry or capitalist and never explored when reporting on Big Abortion.
Both the abortion industry and its political allies receive uncritical reporting. Adam Liptak wrote in the New York Times that the Supreme Court upheld a Colorado law with a smaller bubble zone before stating, "Massachusetts experimented with a similar law but found it inadequate."
But the Supreme Court justices unanimously rejected this argument in the ruling he is allegedly reporting.
Massachusetts politicians "have but one reply" to the contention that they overreached with their sweeping, 35-foot zone: They claimed, "We have tried other approaches, but they do not work," the justices wrote. "We cannot accept that contention."
The state's lawyers "identify not a single prosecution brought under those laws within at least the last 17 years. And while they also claim that the Commonwealth 'tried injunctions,' the last injunctions they cite date to the 1990s," the unanimous justices held.
They cite Boston Police Captain William Evans, who said that officers had made "no more than five or so arrests" under a 2000 law establishing a smaller bubble zone, "and that what few prosecutions had been brought were unsuccessful."
They also rebuffed the state's claims that "the problems are too widespread for individual prosecutions," finding "the police there appear perfectly capable of singling out lawbreakers."
In other words, Liptak ignored the key legal finding of the Supreme Court ruling he was supposed to be reporting.
The media not only report the abortion industry's case and those of the state but also lean heavily upon its stalwarts when conveying the decision's effects. The International Business Times dispensed with any pretense of objectivity, dedicating a scant three paragraphs to the ruling and four paragraphs to pro-abortion reactions to it. These included a statement from the National Organization for Women (NOW) that the court showed "cavalier disregard for the physical safety — the lives, even — of women" and a Colorado state representative's assessment that the decision "is a setback for women in Massachusetts." There was no pro-life reaction whatever.
Even the term "pro-life" never makes an appearance in the media. Reuters repeated the ubiquitous description of pro-life sidewalk counselors as "anti-abortion protesters" and the state's free-speech eradication area as a "protective buffer zone." However, the Supreme Court justices unanimously ruled that the counselors "are not protestors," and that there had been so little evidence of violence or intimidation as to render the need for the "protective" law moot. The prestigious news service's journalist is clearly not reporting their decision – which, like most journalists, he probably didn't read – but using laden language that conveys his own bias in contravention of the facts.
LifeSiteNews.com makes no pretense about being pro-life; however, we prize accuracy, even when the facts do not favor our side. That's a glaring contrast with the well-fed, well-funded media machine that puffs up Planned Parenthood at every turn.
It should be another reminder of the need to give generously to support our efforts.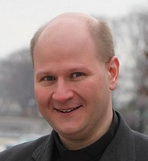 Ben Johnson is U.S. Bureau Chief of LifeSiteNews.com, the guest host of "Nothing But Truth with Crane Durham" on AFR Talk Radio, and the author of three books. His personal website is TheRightsWriter.com. Connect with him on Facebook and follow him on Twitter.
Cross-posted at LifeSiteNews.com.