DENVER, October 31, 2014 (TheRightsWriter.com) — The former governor of Colorado, who has expressed support for population control and said that the elderly have a "duty to die," has come out against a state amendment that would recognize the rights of unborn children, calling the pro-life measure "a monster."
Democrat Dick Lamm, who served three terms as governor (1975-87), wrote a scathing letter to the Denver Post on October 22:
I have been watching Colorado politics for 50 years, yet I have never seen anything as deceptive or dangerous as Amendment 67. If a woman were bleeding to death with an ectopic pregnancy, an attorney would have to be appointed to defend the zygote that is killing the mother. Make sense to you? Amendment 67, which pretends to protect pregnant women, is a monster and deserves an overwhelming "no" vote."
Lamm has something of a personal stake in assuring that abortion-on-demand survives in his state. Colorado was the first state in the nation to legalize abortion, in 1967. The principal sponsor of that legislation was then-state Rep. Richard D. Lamm.
As governor, he told a 1984 meeting of the Colorado Health Lawyers Association that society should tell the ill and infirm, "'You've got a duty to die and get out of the way. Let the other society, our kids, build a reasonable life." Apparently, he did not mean all our kids.
Lamm, a colorful politician who thinks outside traditional political orthodoxies, has written some genuinely disturbing things on numerous fronts during his career. A year after encouraging the death of an entire generation, he wrote in his book Megatraumas that medical spending for major procedures be cut off at age 65. In one of the book's futuristic scenes, he has a character say, "I do not like the idea of suspending civil liberties or the imposition of martial law, but the inflation riots of last year left us with no alternative…Martial law is the least onerous of our choices."
His latest missive shows he has not entirely abandoned his love of fiction.
His letter follows an October 11 op-ed in the Post by his wife, Dottie, who proved her husband's helpmeet in hysteria.
"The amendment doesn't mention abortion, but in truth, it is simply the latest attempt in Colorado to ban all abortions, even in cases where women have been the victims of rape or incest. That means that women who choose abortion for any reason could be criminally charged with a felony, and so could their doctors," she wrote.
"It also means that a woman who suffers an unwanted miscarriage could be charged with manslaughter," she said.
The Lamms' analysis of Amendment 67, the Brady Project, is absurd, if widespread. The measure was inspired after Heather Surovik lost her baby boy, Brady, when a drunk driver collided with her. It differs from recent personhood efforts, focusing only on criminal law. It has no provision to give ectopic babies lawyers or send grieving mothers to the slammer.
Dottie's deceptions become clearer when one realizes her political commitment to the abortion lobby and population control extremism. According to an official biography, Dottie currently sits on the Capital Campaign Committee for Planned Parenthood of the Rocky Mountains. She attended both the UN Cairo Conference on Population and Development and the Beijing Conference on Women, both of which were intended to promote abortion-on-demand and population control measures around the world. They were beaten back in large part by the Arab bloc and the mobilization of Pope John Paul II.
Pope John Paul II vs. Dick and Dottie Lamm: that division persists in the vote on Amendment 67. Colorado voters should choose wisely with whom they wish to cast their lot.
H/T for some of the background information to Carole Novielli.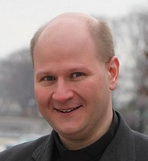 Ben Johnson is U.S. Bureau Chief of LifeSiteNews.com, the guest host of "Nothing But Truth with Crane Durham" on AFR Talk Radio, and the author of three books. His personal website is TheRightsWriter.com. Connect with him on Facebook and follow him on Twitter.
Cross-posted at LifeSiteNews.com.