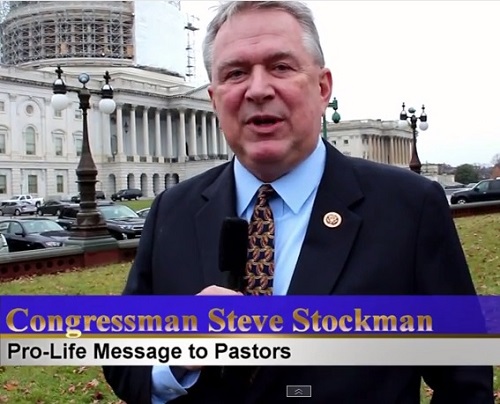 WASHINGTON, D.C., December 17, 2014 (TheRightsWriter.com) — Congressman Steve Stockman, R-TX, has never been bashful about his beliefs. Now he is telling pro-life believers that he believes it is their God-given obligation to speak out about the sanctity of life in the public square.
"I would ask and request, in terms of life and other issues, that they understand and they know that it's God's will that you step up – just like our Founding Fathers did – and you express your opinion and your belief in God and in the Constitution," Congressman Stockman says in a new video released today.
He also appealed to the nation's church-goers to let their representatives know when they've done a good job – and most of all to keep praying for those in authority (I Tim. 2:1-2).
"It's very encouraging to hear from those out in the countryside that you support us when we take a stand, because so many people out there oppose us and fight us," he said, naming several mainstream media outlets."Getting a kind, encouraging word from your flock, and your prayers, and very important to us."
The video is the work of Pro-Life Unity, an activist group founded by Peter Shinn, who says the IRS denied tax-exempt status to his other pro-life organization, Cherish Life Ministries, because it would not teach both sides of the abortion issue, pro and con.
The video ends by calling for "pro-life unity."
"United we stand. Divided they die," the video says.

Ben Johnson is U.S. Bureau Chief of LifeSiteNews.com, the guest host of "Nothing But Truth with Crane Durham" on AFR Talk Radio, and the author of three books. His personal website is TheRightsWriter.com. Connect with him on Facebook and follow him on Twitter.
Cross-posted at LifeSiteNews.com.