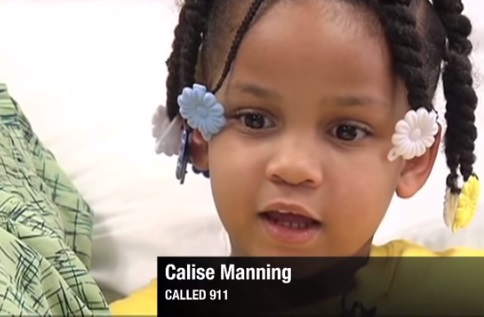 KALAMAZOO, MI, January 27, 2015 (TheRightsWriter.com) — With some quick thinking, and a calm phone manner that is second-to-none, a four-year-old Michigan girl saved her mother and baby brother's lives last week.
Last Wednesday, Centerria Manning's fiance was away when she fell during an epileptic fit. She was nine months pregnant with his baby boy at the time. Luckily, her four-year-old girl, Calise Manning, was at the ready.
The clear-minded preschooler dialed 911 and told the dispatcher her mother's name, condition, and the address to their home in Kalamazoo.
"She's shaking, and she's having a baby," she said. "My mom is really pregnant, and she's having a boy."
Calise presented all the information her mother had told her she may one day have to pass on to emergency personnel. In the process, authorities say she may have saved her mother and unborn brother from a grim fate.
She also won the heart of the dispatcher during the seven-and-a-half-minute call with exchanges like these:
Dispatcher: How old are you, Honey?

Calise: Four

Dispatcher: You're four?

Calise: Yeah, and I'm always getting bigger.
Her baby brother, T.J. Manning, was born at 7 pounds, 7 ounces, on Friday morning, according to WWMT-TV.
(Story continues following video.)
"I love him," she said with evident pride.
H/T: Charisma News.

Ben Johnson is U.S. Bureau Chief of LifeSiteNews.com, the guest host of "Nothing But Truth with Crane Durham" on AFR Talk Radio, and the author of three books. His personal website is TheRightsWriter.com. Connect with him on Facebook and follow him on Twitter.
Cross-posted at LifeSiteNews.com.