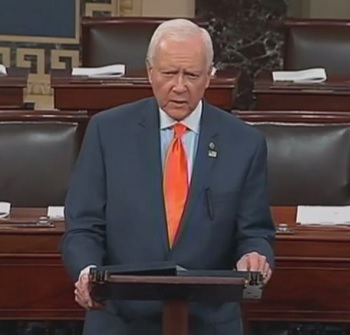 WASHINGTON, D.C., March 27, 2015 (
TheRightsWriter.com
) — Senator Orrin Hatch, R-UT, gave a heartfelt speech about his Democratic colleagues' extreme devotion to abortion funding.
He called their efforts to hold up a bill that has a very limited effect on abortion funding "shameful."
Republicans stipulated that the Hyde Amendment would apply to funding for victims of human trafficking. Since the Hyde Amendment allows taxpayer funding of abortion in the case of rape, and since trafficking victims have often suffered sexual exploitation, it's impact would be minimal.
But the idea of threatening one cent of the abortion industry's revenue stream springs Democrats into action, choosing abortionists over the needs of modern day slaves. They are holding up aid to trafficking victims until abortionists can rest assured they will not be deprived of any profit whatever.
"It would be pathetic to hold up this bill," Hatch said.
Watch Sen. Hatch's powerful speech here:
Ben Johnson is U.S. Bureau Chief of
LifeSiteNews.com
,
the guest host of
"
Nothing But Truth with Crane Durham
"
on AFR Talk Radio
,
and the author of three books. His personal website is
TheRightsWriter.com
.
Connect with him on
Facebook
and follow him on
Twitter
.