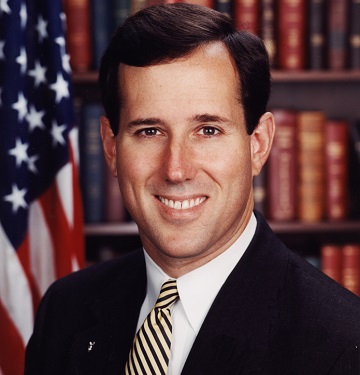 COLUMBIA, SC, May 4, 2015 (LifeSiteNews.com) – Hours after Rick Santorum offered some uncharacteristic comments that appeared to affirm that Bruce Jenner "is a woman," the potential 2016 presidential candidate began walking back his statements.
Santorum made the comment about the onetime athlete, who is now undertaking a very public gender reassignment, during a campaign stop in Columbia, South Carolina.
"If he says he's a woman, then he's a woman," Santorum said in an interview with the website Buzzfeed. "My responsibility as a human being is to love and accept everybody – not to criticize people for who they are."
"So, these are tough issues. I haven't got into the whole issue," Santorum continued.
Referencing the Obama administration's propensity to sue colleges or school districts that refuse to allow biological males to use the restrooms and showers – or, in some cases, hotel rooms – of the opposite sex, Santorum added, "I don't think the federal government should get into the whole issue of bathrooms. I think those are things that the business community and local agencies and organizations should deal with."
National media, and the homosexual blogosphere, immediately reported the comments by Santorum, who ran as a rock-ribbed social conservative and foreign policy hawk.
Soon, Santorum's allies began to say his words had been "misinterpreted." Catholic blogger Lisa Graas, a Santorum supporter, reported that the former U.S. Senator explained his words to her in private.
"I am not going argue with him [Bruce Jenner] as to whether he is a man or a woman. He is obviously biologically male and that cannot change," Santorum told her. "I meant only to be kind to people who are obviously very troubled."
The Pennsylvania Republican later addressed the exchange publicly. While saying he has had no change in policy, he avoided saying whether he believes Jenner is male or female.
"Many of you may have read a story published by the website BuzzFeed where I was asked for my thoughts regarding Bruce Jenner," Santorum wrote on his Facebook page. "My comment affirmed Jenner as a person, made by God in His likeness as we all are. It was meant to express empathy not a change in public policy.?#?compassion?."
Social issues have dogged Santorum, who won the 2012 Iowa caucuses and emerged too late as the anti-Romney candidate.
In the intervening years, Santorum has said the Republican Party must reconnect with blue collar workers who share the party's stance on life and family issues but feel left out of the GOP's economic agenda. Along these lines, Santorum has reminded audiences of his strong opposition to free trade agreements. According to Public Citizen, his native Pennsylvania has lost more than 314,000 manufacturing jobs since NAFTA went into effect in 1994.
Santorum has not yet announced whether he will join the increasingly crowded 2016 Republican presidential field. Former Arkansas Governor Mike Huckabee is scheduled to announce his candidacy tomorrow. Dr. Ben Carson and Carly Fiorina have also thrown their hats in the ring.
(Published on Monday, May 4, 2015, on LifeSiteNews.com.)