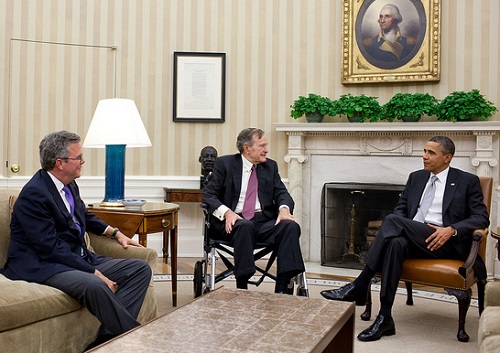 Jeb Bush is scheduled to announce he is running for president later today, but a recent straw poll shows just how far he will have to go if he hopes to win over his party's conservative Christian grassroots.
The Florida Family Action hosted its 2016 GOP Battle for Florida event last month. After a significant discussion of the candidates' views, the pro-family group held a straw poll.
Jeb Bush, the state's former two-term governor, came in third. In a tie.
Marco Rubio won handily, with one-third of the votes. Ted Cruz came in a close second, at 30 percent.
Jeb Bush led the second-tier candidates, tying Scott Walker with nine percent of the vote. Like Bush,
Walker has not yet announced he is a candidate.
The straw poll is significant for several reasons:
1. These are the evangelicals that know Jeb Bush best. He was their governor for eight years, and he is unlikely to make any inroads with them. Short of an electoral earthquake, he will not be Christian conservatives' favorite candidate in the primary;
2. It shows the popularity of Ted Cruz among evangelicals. In a state with two Florida politicians in the race, Ted Cruz finished a near-tie for first place and more than three-times as many votes as Bush; and
3. The poll reflects Bush's overall slide, including in Florida, the state that made him its first two-term Republican governor. Just 24 percent of Florida voters supported him in a Quinnipiac poll, down from 32 percent two months earlier.
Still months away from voting, the race is currently a battle between two favorite sons – Jeb Bush and Marco Rubio, the current U.S. senator and a longtime popular figure in state politics.
While Rubio has spoken out on the threat Christians face if the Supreme Court invents a new Constitutional "right" to gay "marriage," Jeb Bush has floundered.
In a party facing "Bush fatigue," Jeb made matters worse with a confused answer about whether he would have invaded Iraq in 2003, his defense of Common Core, and his vocal support of granting amnesty to more than 11 million illegal immigrants.
"Former Florida Gov. Jeb Bush is the front-runner in a possible 2016 presidential primary in Florida, but he is slipping there and stalled in two other key swing states," the Quinnipiac pollsters found in April.
Bush did not lead the polls in Ohio or Pennsylvania, either. He has tacitly acknowledged his trouble, shaking up his campaign staff on the eve of next week's launch.
"Bush has a lead over the field in his home state of Florida, but it's not anywhere near insurmountable," said Peter A. Brown, assistant director of the Quinnipiac Poll.
Florida – which became the swing state in 2000, when George W. Bush won there by 537 votes – is a toss-up, with polls showing Hillary Clinton tied with several likely Republican nominees.