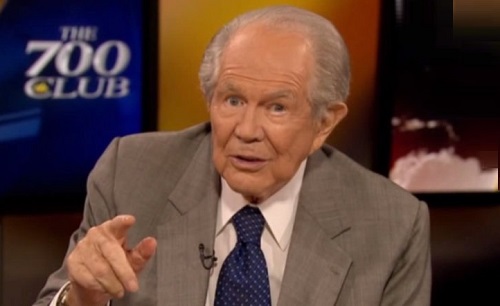 He ran for the office himself. He has spoken before the Republican National Convention. And he brought tens of thousands of evangelicals into the political process. On Monday, Pat Robertson revealed his ideal choices for president and vice president in 2016.
"I've said at the beginning of this thing that the dream ticket would be Jeb Bush for president and John Kasich as vice president," Robertson said on The 700 Club on Monday. "Jeb will have the money and the momentum going in, but either one of them would make a superb president."
Robertson knows how high the odds are running against a member of the Bush family. He scored a major upset, relegating sitting vice president George H.W. Bush to third place in the 1988 Iowa caucuses, before launching the Christian Coalition.
Robertson interviewed sitting president George H.W. Bush on The 700 Club before the 1992 election and supported him over his conservative primary challenger, Pat Buchanan.
On Monday, Pat went on to say that Kasich, a long-serving House Budget Committee chairman who won a landslide re-election as governor of Ohio last year, is "an expert on budget matters" and "has the common touch."
"He speaks to the blue collar workers of Ohio and the nation," he said. "There's no way they can pin what they did with Mitt Romney – that he's out of touch, that he's a plutocrat. He's just not."
Kasich speaks openly about his faith but has caused some Republicans to question his conservative bona fides after expanding Medicaid, endorsing an amnesty plan for illegal immigrants, and hiring John Weaver as chief campaign strategist.
Jeb Bush has deep issues with the GOP base on immigration, Common Core, and a deep bench of Establishment Republican advisors.
Robertson' raised eyebrows in 2008, when he endorsed New York City Mayor Rudy Giuliani – a pro-choice supporter of the homosexual political agenda – for president.
Pat's enthusiasm for Kasich seems to be more personal. "Oh man, he's a good guy," Robertson said.
"And his mother used to watch The 700 Club; that's what's so important about him," he said, joking, "What else would you possibly need as a candidate?"
One thing is for certain: The end of the primary season is a long way off, and Christian voters have the power to play a pivotal role in selecting the nominee.
What's your dream ticket?