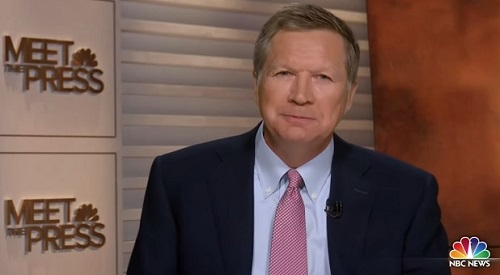 Ohio Gov. John Kasich joined the 2016 presidential race — the 16th to formally enter — with a largely extemporaneous speech on Tuesday that sounded at times like a heartfelt sermon.
Kasich, 63, talked about his Uncle Steve's vow to God as he faced the trauma of World War II. "He found himself at Iwo Jima, and he looked around during that battle and he saw a lot of people dying," he said. "Uncle Steve was not a church-going man, but in the middle of all the violence and the blood and the death, he said to God, 'If you will take me off this island, I will go to church every day for the rest of my life.'"
"And he did," he added.
Another uncle was providentially saved from death by being kept off a doomed boat during deployment to the European theater.
Later in the speech, he turned particularly somber. "You know, we've got this Holocaust Memorial, and there's a line etched that says, 'If you save one life, you've changed the world.' Do you believe that?" he asked the crowd at his alma mater of Ohio State University. "If you save one life, you changed the world. And the Lord will record what you've done for another in the Book of Life."
That language may repel as well as it attracts. In the past, Kasich has cited Matthew 25 to justify expanding ObamaCare without legislative approval, a move that has cost Ohio taxpayers $4 billion in 18 months.
When he raised the issue of why he is running in his announcement speech, Kasich asked, "If we're not born to serve others, what were we born to do?"
"I'm just a flawed man, a flawed man trying to honor God's blessings in my life," he said. " I just — I don't even understand it all. He's been very good to me. And I want you to know that I will do my very best to serve you."
The speech was long on emotion, if short on specifics. Kasich, a popular governor of a swing state, says he has the skills and experience necessary to handle the ship of state, especially touting his role in helping balance the federal budget in the 1990s and improving Ohio's economy.
Critics dismissed his off-the-cuff style, which caused him a faux pas at one point as he repeated Jeb Bush's campaign slogan. "The developmentally disabled, they're made in God's image," he said. "They have a right to rise."
Some pundits have suggested Kasich has entered the race as a hatchet man for Jeb Bush, in hopes of picking up the vice presidential nomination. They note that his top campaign adviser is John Sununu, who has deep ties to the Bush family and advised Mitt Romney's 2012 campaign.
The shape of Kasich's second presidential campaign concerns conservatives. Kasich has hired an adviser, John Weaver, who has waged war on conservative Christians on Republican, and sometimes Democratic, campaigns. Another adviser, Matt David, supports gay "marriage," an issue Kasich said has been settled by this summer's Supreme Court ruling.
Kasich's record on abortion, recently signing another pro-life budget, drew protesters to his speech.The Columbus Dispatch reports:
Jaime Miracle, deputy director of NARAL Pro-Choice Ohio, said she was protesting because Kasich's candidacy "means that our personal rights are under attack. We will be there every step of the way." Abortion-rights activists held signs facing the Ohio Union that said "John Kasich has no faith in women."
He has won support in another quarter. Pat Robertson said Kasich would make "a superb president" but chooses Kasich as vice president on his 2016 dream ticket, with Jeb Bush.
Without a surge in national polls, he will not be on the stage in next month's Fox News debate in Cleveland.