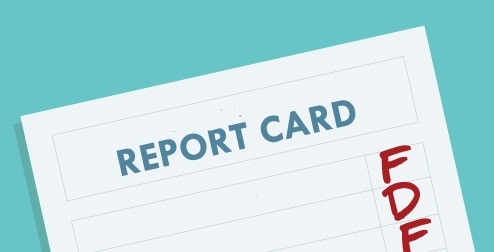 They may be near the top of the polls, but two Republican presidential hopefuls flunked education policy by supporting Common Core, according to a conservative watchdog.
American Principles in Action released a report card on the controversial, top-down federal standards that have parents perplexed and students undereducated. Two governors – Jeb Bush and John Kasich – got the lowest grade possible, an "F," for continuing to support and defend Common Core.
"The federal government's involvement in education policy as a colossal failure that has harmed, not helped, children," the group writes.
The Hill reports:
"Gov. Bush is perhaps the most outspoken supporter of the Common Core standards in the 2016 field," the paper states.

Althouugh [sic] Common Core standards were developed after Bush left as governor of Florida, he has advocated for the education standards through the foundation he started after leaving office. Some Republicans believe that Common Core represents Bush's biggest hurdle in seeking the Republican presidential nomination…[T]he APIA ripped Bush, saying he has "propagated the false narrative that the Common Core standards are merely learning goals and are of high quality."

"He has turned a blind eye to the reasons underlying opposition to Common Core and instead used straw-man arguments to dismiss opponents as relying on 'Alice-in-Wonderland logic'," the report says.
Bush has been outspoken in his support of Common Core.
In addition to his own nonprofit, Jeb Bush served on the board of a philanthropy that gave millions to Planned Parenthood in a partnership to repeal pro-life laws around the world. When asked about this during the Fox News Republican presidential debate in Cleveland, Jeb said he "didn't know" about the funding, but "it doesn't matter."
Apparently, he thinks promoting Common Core – a major undertaking of the Bloomberg Philanthropies – was worth being associated with its global abortion advocacy.
Ohio Governor John Kasich has also refused to tone down his support of Common Core:
"Like Bush, Kasich is an unapologetic cheerleader for the Common Core," the report says. "His only response to the large and active anti-Common Core grassroots operation in Ohio is to make fun of them."

New Jersey Gov. Chris Christie and Wisconsin Gov. Scott Walker also scored poorly in the analysis, each getting a D grade.

In May, Christie finished his long evolution on Common Core. He was once a big-time supporter but announced at a campaign rally that after having commissioned a panel to study the education standards, he would pull New Jersey out of Common Core.
However, Christie will continue to administer the PARCC test, which reflects Common Core's curriculum.
APIA handed out scores based on three criteria: Whether candidates fought Common Core, upheld local decision making in education policy, and protected child and parental privacy.
Their grades are as follows:
Ted Cruz: A-
Rand Paul: A-
Bobby Jindal: B+
Lindsey Graham: B
Rick Perry: B
Rick Santorum: B
Ben Carson: B-
Donald Trump: B-
Carly Fiorina: C+
Mike Huckabee: C
Marco Rubio: C
Chris Christie: D+
Scott Walker: D+
Jeb Bush: F
John Kasich: F
Two Republican candidates – Jim Gilmore and George Pataki – are not included.