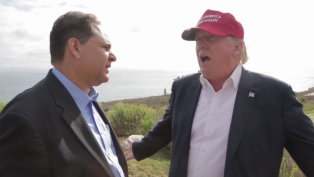 Donald Trump has the support of a large and still-growing group of Republican voters, including many evangelicals. According to the latest poll, he not only tops the field of Republican candidates but is the favorite candidate among conservative Christians.
But people of faith wonder about his faith. CBN's David Brody asked him point blank, "Who is God to you?"
"Well, I say God is The Ultimate," Trump responded as they walked around one of Trump's golf courses, a wonderful example of nature on a beautiful coastline. "Look at this. Here we are on the Pacific Ocean. How did I ever own this?"
"I mean God created this, and here's the Pacific Ocean right behind us," Trump continued, gesturing to Brody. "So nobody, no thing, no – there's nothing like God."
Brody notes that Trump is less versed in Biblical language than many of his competitors – which include a former Southern Baptist preacher, the son of an evangelist, and deeply faithful Seventh Day Adventist.
Given his answer, I also wonder if Trump's own church background comes into play. He was raised attending First Presbyterian Church in Queens That denomination is part of the Calvinist and Reformed tradition, which emphasizes the mystery, power, and – in theologian Karl Barth's famous phrase – "Wholly Other" nature of God.
What do you think?

(Video: Courtesy of CBN News/The Brody File)