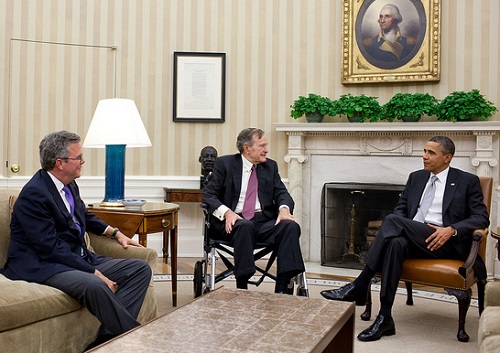 Not everyone will vouch for President Barack Obama's Christian faith. At times, even he seems confused. But Jeb Bush says he has no doubt about Obama's faith.
"He is a Christian," Bush told a crowd of 2,000 Republicans on Mackinac Island, Michigan.
The media feeding frenzy began when Donald Trump took a question from a man at a town hall event. That man prefaced his question to Trump by saying Obama is a Muslim and was not born in the United States.
Trump, obviously uncomfortable, tried to hurry the man up, then curtly answered his question – which was about alleged Muslim terrorist training centers inside the United States.
However, Trump did not say that Obama is a Christian or an American.
On Meet the Press Sunday, Trump told Chuck Todd that a Muslim could become president of the United States "at some point."
"Some people have said it already happened, frankly," he said.
Not everyone believes that President Obama is a Christian. I have previously written about why so many people believe Barack Obama is not a Christian.
Rev. Franklin Graham has said that Obama told him in 2004 that he only began attending church when he worked as a community organizer in Chicago, in order to establish political ties through the local churches.
Do you think Obama is a Christian? A secret Muslim? Or a committed secularist using religious language for his own purposes?