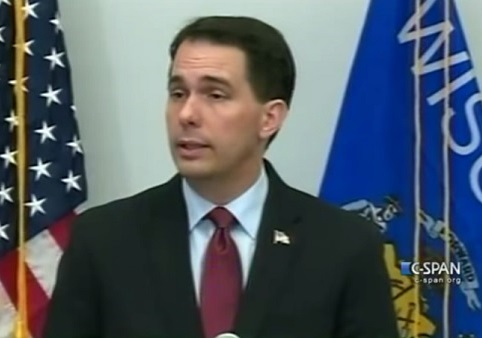 Scott Walker, the son of a Baptist preacher, grew up believing in God's grace. As he announced he was leaving the presidential campaign last night with evident disappointment, he made clear that God's comfort would be more than enough to sustain him.
He closed his speech by thanking his family – his wife Tonette "who has been a rock," and his sons Matt and Alex, along with his parents and extended family and friends.
"Most of all, I want to thank God for His abundant grace," he said. "Win or lose, it is more than enough for any of us."
That is a paraphrase of I Corinthians 12:9, when the Apostle Paul spoke of God's words to him during a time he begged for deliverance: "My grace is sufficient for thee: for my strength is made perfect in weakness."
Earlier in his speech, Governor Walker seemed to indicate that dropping out of the race was also God's will – so that someone could emerge to dethrone Donald Trump as the GOP front runner.
"While I was sitting in church yesterday, the pastor's words reminded me that the Bible is full of stories about people who were called to be leaders in unusual ways," he said. "Today, I believe that I am being called to lead by helping to clear the race so that a positive conservative message can rise to the top of the field. With that in mind, I will suspend my campaign immediately."
Whatever God's purpose for his life and campaign, we wish him well, as God's grace sustains him.