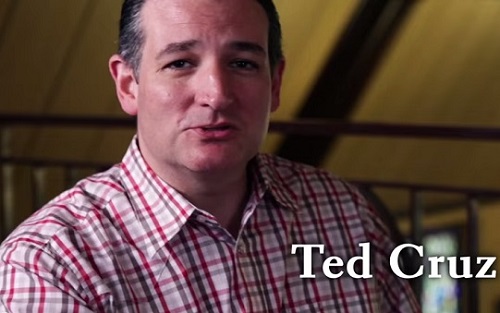 DES MOINES, IA, December 11, 2015 (TheRightsWriter.com) – While 2016 is an unconventional presidential election year, winning coveted endorsements is still a major step for anyone seeking to become the next president of the United States.
Senator Ted Cruz just won three: an Iowa evangelical leader who has picked the last two caucus winners, the nation's most visible organization supporting natural marriage, and a legendary conservative activist.
The endorsement of Bob Vander Plaats, president and CEO of the Family Leader, has been sought after by every social conservative in the race. His support helped power Mike Huckabee and Rick Santorum to surprise victories in the Hawkeye state in 2008 and 2012.
"We truly believe that Ted Cruz is the most consistent and principled conservative who has the ability to not only win Iowa but I believe to win the nomination," Vander Plaats told the Des Moines Register.
"I really believe that he has the ability to unite conservatives, not only in Iowa but across this country," he later told Fox News host Neil Cavuto, hailing Cruz's "titanium spine" and "bold leadership."
Evangelical and born again Christians made up 60 percent of Republican Iowa caucus voters in 2012, according to a CNN poll. But in the past, they have often found themselves fragmented between equally pro-life candidates.
"Our hope and fervent prayer [is] that 2016 will be different, and Christians will avoid dividing into factions that fight against, instead of alongside, one another," the Family Leader said in a statement on Thursday,hoping evangelicals will select "a single standard bearer around whom Christian voters can unite."
The National Organization for Marriage (NOM) also chose Cruz as its 2016 nominee. Although Rick Santorum, Mike Huckabee, and Dr. Ben Carson signed NOM's marriage pledge, and Sen. Marco Rubio has "spoken out powerfully" for marriage, Sen. Cruz "has personally authored the pending federal marriage amendment to restore the right of states to define marriage as one man/one woman," NOM President Brian Brown said. 'Moreover, he has spoken out consistently and forcefully on the campaign trail as an advocate of true marriage. We are pleased to endorse him and will do everything in our power to support his election."
The two endorsements come at the same time that renowned conservative leader Richard Viguerie, a nationally recognized leader with more than 50 years experience in the pro-life movement, threw his support behind the senator from Texas.
"Republicans must nominate a candidate who we know will govern according to constitutional principles, who is capable of drawing a clear contrast with Hillary Clinton and the Democrats on the issues of importance in today's political environment, and who has the brains, talent and discipline to fight Hillary Clinton and win. That candidate is Senator Ted Cruz of Texas," Viguerie announced.
Viguerie, the pioneer of direct mail fundraising and currently the chairman of ConservativeHQ, continued by addressing fellow "conservatives who continue to window shop," asking, "What are you waiting for? In Ted Cruz conservatives have a candidate that's everything we want."
As he seeks to position himself as an acceptable alternative to front runner Donald Trump, Cruz expressed his gratitude for the outpouring of support. "From libertarians to Tea Partiers to social and national security conservatives, people are getting behind our campaign because it is time to restore constitutional principles and reignite the promise of this great nation," Cruz said. "It's more evidence that our campaign has momentum and is gaining ground heading into the final weeks of the caucus," scheduled to be held on February 1.
The latest Monmouth University poll shows Cruz in first place, ahead of Donald Trump. Both he and Florida Sen. Marco Rubio have surged in recent weeks, as Dr. Ben Carson has steadily faded among core evangelical and pro-life voters.
Not everyone is enamored with the Texas senator's emergence as a serious presidential candidate. Former Senator Bob Dole, who won the Republican presidential nomination 20 years ago, said he "might oversleep" on election day if Cruz is this year's GOP standard bearer. Dole lost the election to Bill Clinton by eight percentage points and more than eight million votes.