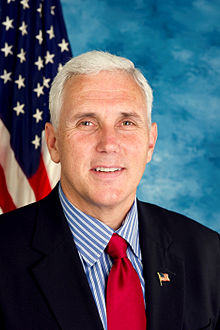 CLEVELAND, July 21, 2016 (TheRightsWriter.com) – If Americans want to preserve the sanctity of life or save the Constitution from judicial activists, they must vote for Donald Trump, said vice presidential candidate Mike Pence in a stirring address to the Republican National Convention last night.
The governor of Indiana made one of the convention's rare references to abortion or social issues in his speech inside Quicken Loans Arena, saying the future of right-to-life law and American jurisprudence hangs in the balance this election.
"While we're filling the presidency for the next four years, this election will define the Supreme Court for the next 40," Pence said.
"For the sake of the rule of law – for the sake of the sanctity of life – for the sake of our Second Amendment, and for the sake of all our other God-given liberties, we must ensure that the next president appointing justices to the Supreme Court is Donald Trump," he said, earning one of several ovations during his speech.
Allowing a Democrat to appoint justices to the High Court poses a threat to "our Constitution and limited government."
"Elect Hillary Clinton and you better get used to being subject to unelected judges using unaccountable power to take unconstitutional actions," he said.
Referring to President Obama, as well as Clinton, Pence said Democrats had "become too entrenched in power, so comfortable at times that they lose patience with the normal legislative process. It's so much simpler to impose their values by executive order or court action."
President Obama has used executive powers to fund Planned Parenthood and sued states that refuse to allow teenagers to shower or share dorm rooms with members of the opposite sex.
"Make no mistake about it, Hillary Clinton has some big ideas along those lines, too," Pence said.
Pence, who had a reputation as a social conservative during his six terms in the House, returned to the themes of faith and family in his address.
After an introduction by Speaker of the House Paul Ryan, Pence acknowledged his wife, Karen, and his three children: Charlotte, Audrey, and Michael. "The most important job I'll ever have is spelled D-a-d," he said.
He also repeated his much-used self-description, "I'm a Christian, a conservative, and a Republican – in that order."
Pence, who was raised a Catholic in a Democratic home before becoming an evangelical Protesant Republican, paraphrased King Solomon as he promised "to pray daily for a wise and discerning heart, for who is able to govern this great people of Yours without it?"
"I have faith, faith in the boundless capacity of the American people and faith that God can still heal our land," he said.
"When we elect Donald Trump the 45th president of the United States, together we will make America great again!" he concluded, as the crowd chanted "We like Mike!"
Donald Trump, who broke with tradition by attending and/or speaking at every night of the GOP convention, briefly joined Pence on stage.
Conservatives said the speech helped ease tensions between the New York billionaire and the party's more conservative grassroots, some of whom question his commitment to social issues. Penny Nance of Concerned Women for America called the speech "a slam dunk."
Brent Bozell, the founder of the Media Research Center and chairman of ForAmerica, said Gov. Pence's speech "helped Donald Trump tremendously. Pence offered a vision for the nation that many conservatives who continue to be skeptical of Trump are going to find appealing."
"History shows that when Republicans run on the conservative issues raised by Governor Pence tonight, they win elections," Bozell said.
Ken Blackwell, a nationally known pro-life conservative who hails from Ohio, said Pence "delivered a vintage, full throttle Reaganesque conservative vision for the country. No question, Governor Pence's speech tonight will energize the conservative base of the party, which is critical – because Republicans do not win without its energy."
Donald Trump raised the issue of judicial appointments on Twitter this morning, referencing the controversy over Senator Ted Cruz's decision not to endorse him.
Ted Cruz talks about the Constitution but doesn't say that if the Dems win the Presidency, the new JUSTICES appointed will destroy us all!

— Donald J. Trump (@realDonaldTrump) July 21, 2016
Mr. Trump will make his presidential acceptance speech tonight on the final evening of the Republican National Convention.