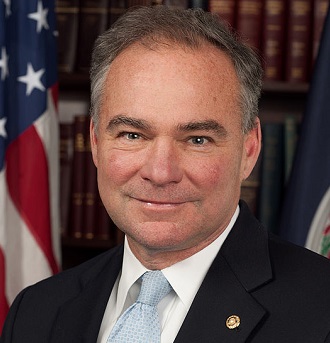 WASHINGTON, D.C., July 5, 2016 (TheRightsWriter.com) – Tim Kaine, a Catholic senator who is rumored as a possible vice presidential nominee for Hillary Clinton, invoked Pope Francis to justify funding Planned Parenthood in a recent Zika virus bill, according to several media outlets.
The Democrat-controlled U.S. Senate voted down a $1.1 billion anti-Zika package passed by the Republican-controlled House of Representatives late last month. President Obama had threatened to veto the package, in part because it fell short of the $1.9 billion he requested, and in part because it failed to fund Planned Parenthood, the nation's largest abortion provider.
Last week, Senate Majority Leader Harry Reid said Republicans acted to "restrict funding for birth control provided by Planned Parenthood…only to get votes from the crazies."
The Zika virus is transmitted primarily by mosquitoes but also through sexual contact, a fact that has caused social liberals to call for greater contraceptive funding, and funding for abortion-on-demand, worldwide.
Sen. Kaine said that Pope Francis had made comments justifying the use of birth control in order to avoid contracting the life-threatening virus. Roman Catholic theology considers the use of artificial birth control a mortal sin.
"The great [Pope] Paul VI, in a difficult situation in Africa, permitted sisters to use contraception for cases of rape," Pope Francis told a reporter on a flight back from Mexico in February.
"Avoiding pregnancy is not an absolute evil," the pope said. "In certain cases, as in this one, such as the one I mentioned of Blessed Paul VI, it was clear."
Sen. Kaine, who calls himself "a traditional Catholic" but who publicly supports abortion-on-demand, alluded to this quotation during a recent meeting in Richmond, according to Roll Call.
"Planned Parenthood is a primary health provider" that stands "at the core of dealing with the population that has been most at risk of Zika," he said.
The House version of the Zika relief bill restricted funds to services "provided by public health departments, hospitals, or reimbursed through public health plans." Kaine and other Democrats said this would deny the poor proper health care services.
However, the Miami Herald found that, in all seven cities in which Profamilias – the Planned Parenthood affiliate in Puerto Rico – has an office, another health care provider not affiliated with Planned Parenthood is eligible for the bill's anti-Zika aid.
Planned Parenthood took to Twitter to thank Senate Democrats for voting against the billion dollar anti-disease aid package:
Thanks to @maziehirono for calling for immediate action on the #ZikaVirus that includes access to #reprohealth. https://t.co/ojl6GTp7UM

— Planned Parenthood (@PPact) June 30, 2016
Kaine is reportedly on Clinton's short list for vice president, due to his perceived moderation and roots in Virginia, which has increasingly become a presidential battleground state.
Democrats for Life of America rescinded its endorsement of Kaine during his re-election bid in 2012.
More recently, he announced his support for the "Access to Birth Control" act, which would fine pharmacists $1,000 a day per violation for refusing to distribute the morning after pill or Ella, both of which may act as abortifacients.
Nonetheless, abortion advocates say they distrust Kaine, a former governor, over his onetime signature of a bill establishing a "Choose Life" license plate in Virginia.
"We hope [Hillary Clinton] selects a vice presidential candidate who will continue her fight for reproductive freedom," said NARAL Pro-Choice Virginia President Tarina Keene.
Kaine had previously quoted a Lenten sermon delivered by Pope Francis to support the Affordable Care Act, conventionally known as ObamaCare.