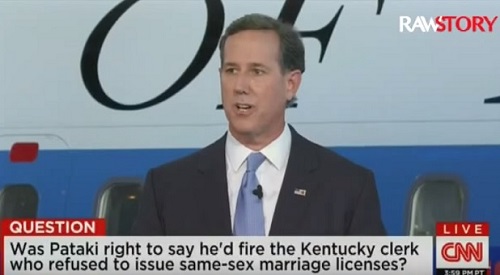 How far has America fallen, and how quickly? Sen. Rick Santorum tried to measure our moral decline at last night's opening debate—featuring four presidential candidates—by comparing those who cheered Kim Davis' arrest with another faithful person.
Just "16 years ago, this country was tremendously inspired by a young woman who faced a gunman in Columbine [High School] and was challenged about her faith and she refused to deny God. We saw her as a hero," he said.
Today, when Kim Davis refuses to enact "a judge's unconstitutional verdict," she "is ridiculed and criticized" for "not denying her God and her faith."
"That is a huge difference in 16 years," he said.
"How many bakers, how many florists, how many pastors, how many clerks are we going to throw in jail?" he asked.
Immediately after his comment, the Internet trolls and meme-makers insisted that he was referring to Cassie Bernall, the 17-year-old girl who found faith in Jesus Christ, which helped her sort out her heartache, just in time for the Columbine High School shooting in Littleton, Colorado, April 20, 1999.
They said the story of her "martyrdom" had been debunked and accused him of spreading "myths."
But note two things.
First of all, at no time did Senator Santorum say that the teenager he was talking about was Cassie Bernall. He said that a young woman "faced a gunman in Columbine" and "refused to deny God."
And guess what? That happened. But it wasn't Cassie Bernall; it was a young lady named Valeen Schnurr.
Dave Cullen wrote in his book Columbine:
Val was shot before her exchange about God. Dylan [Klebold] pointed his shotgun under her table and fired several rapid bursts, killing Lauren Townsend and injuring Val and another girl. Val was riddled with shotgun pellets up and down her arms and torso. Dylan walked away.
Val dropped to her knees, then her hands. Blood was streaming out of 34 separate wounds. "Oh my God, oh my God, don't let me die," she prayed.
Dylan turned around. This was too rich. "God? Do you believe in God?"
She wavered. Maybe she should keep her mouth shut. No. She would rather say it. "Yes. I believe in God."
"Why?"
"Because I believe. And my parents brought me up that way."
Dylan reloaded, but something distracted him. He walked off. Val crawled for shelter.
Once she made it out, Val was loaded into an ambulance, transported to St. Anthony's, and rushed into surgery. Her parents, Mark and Shari, were waiting for her when she came to. Val started blurting out what had happened almost immediately. She made a full recovery, and her story never varied. Numerous witnesses corroborated her account.
So, there was a young lady who faced a gunman in Columbine High School, and she refused to deny her faith in God. While praying, her would-be assassin got "distracted" and did not deliver what would have certainly been a life-ending second blast.
Another "prayer-related coincidence"!
And yes, a lot of us think of her as a hero.
Second, some of us think of Cassie Bernall as a hero, too. She had dabbled in witchcraft and recently received Jesus Christ as her Savior, something those who knew her said had changed her life profoundly. The young lady who was hiding under a table with Cassie during the shooting, Emily Wyant, told Cullen the two were huddling together face-to-face, so they could see over each other's shoulders and communicate. "Between exchanges, Cassie prayed very quietly," Cullen wrote.
A Christian lady murdered by two psychopaths who wanted to honor Adolf Hitler—an occultic hater of Christianity—on his birthday: There's certainly an element of martyrdom there.
And yes, a lot of us would think anyone who kept her head and prayed in such a situation shows commendable valor.
It should be clear that Rick Santorum did not spread any "myth" about Columbine. His words comport exactly with history. It is the secularists who defame him who base their statements on intellectual sleight-of-hand and straw men arguments. They "beat the air," but their words signify nothing.
How different than the prayers uttered by Valeen and Cassie, both heard, both honored and both—in their own way—heroic.