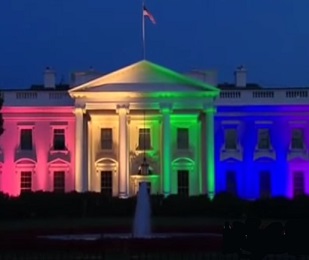 Barack Obama plans to meet Pope Francis this week in Washington, D.C.—but the two won't be alone. The people the president invited spurred one presidential candidate to call the president "anti-Christian."
Obama has invited a wide variety of liberal "Christians"—including a Catholic nun who believes in abortion-on-demand, a homosexual Episcopal bishop, and a transgender Christian—to the meeting with him.
Sister Simone Campbell of NETWORK received a small reprimand after she led the liberal "nuns on the bus" tour. She dissented from Catholic doctrine by supporting abortion.
Bishop Vicky Gene Robinson was the Episcopal Church bishop of New Hampshire, the first in that church to be openly gay. He "married," then later "divorced," the man he left his wife to be with.
Mateo Williamson, who is the former co-chair of the Transgender Caucus, and blogger Aaron Ledesma of the website The Gay Catholic will also be in attendance.
The president hopes the members will be able to speak to Pope Francis and, hopefully, be part of a photo opportunity with him.
The Roman Catholic Church strongly opposes all forms of abortion and homosexual activity. Before he became pope, then-Archbishop Jorge Bergolio called gay "marriage" a "machination of the devil." The pope's advisers have reportedly objected to the meeting, saying it would send a confusing message for the pope to be photographed with people who believe in doctrines that contradict the moral teachings of Scripture.
They're not the only ones objecting.
"President Obama's classless decision to transform Pope Francis' visit to the White House into a politicized cattle call for gay and pro-abortion activists is an insult to millions of Catholics," said former Governor Mike Huckabee, a Southern Baptist.
"Why is it that Obama goes to extremes to accommodate Muslim terrorists but shows nothing but disdain for Christians?" he asked during a stop in Iowa. "This is a new low for an administration that will go down as the most anti-Christian in American history."
What do you think? Is Obama using the White House to embarrass Pope Francis?
Sadly, I believe there something deeper at work. I believe there is a reason the commander-in-chief used the papal visit to elevate a group of rather obscure church members whose views contradict the Word of God.
After all, this is the same man who said the Sermon on the Mount demanded gay "marriage."
President Obama would like to use the power and prestige of church and state to promote a heretical strain of Christianity, a false Christ that embraces his own political agenda. This false Christ will bless his views on abortion and same-sex "marriage" and lull Christians to sleep.
This alternate Christ will also ensnare Christian's souls by leading them away from the true Christ.
What do you think?