Who is Ben Johnson, "The Right's Writer"?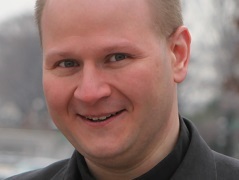 The Right's Writer is an online archive of articles by Ben Johnson, conservative and pro-life journalist, op-ed writer, media commentator, and frequent Media Matters target. Ben is U.S. Bureau Chief of LifeSiteNews.com and guest host of Nothing But Truth with Crane Durham on the AFR Talk Radio Network. The author of three books, his writings have appeared in National Review, The Daily Caller, The (UK) Guardian, Human Events, and have been cited by CBS News, The Rush Limbaugh Program, Sean Hannity, Michelle Malkin, and many others. His insight and quick turn-of-phrase have landed him regular appearances on The Michael Savage Show, The G. Gordon Liddy Show, The Michael Reagan Show, The Alan Colmes Show, and a host of programs across the nation. (Book Ben Johnson here.) He has broken such national and international stories as:
The Radical Behind Obama's Get-Out-the-Vote Campaign, a five-part series on Buffy Wicks, the woman Andrew Breitbart desperately wanted to expose during his lifetime. Here's the information he sought on a woman who was mentored by Marxists at a UN-sponsored Peace Studies program, led hate-America rallies with Marxist organizations, sued to keep a white woman out of law school because of her race, and is working to build an army of community organizers trained in Saul Alinsky's tactics;
Obama Hauls Arizona Before the UN Human Rights Council, the original story about Obama making an international case out of the Arizona immigration law. Arizona Governor Jan Brewer first learned Obama had taken this action from my article;
Obama Science Czar John Holdren's support for compulsory abortion for American women, world government, and global redistribution of wealth. The story was picked up by Michelle Malkin and soon went viral;
Valerie Jarrett and the Obamas' close association with a revolutionary socialist who says she "probably" rejects violence;
The Office of Public Engagement, led by Obama clone Valerie Jarrett, held a "cultural policy" summit with America-hating conspiracy theorists, Alinskyite community organizers, a Jewish lesbian who confessed to having "a little crush on Mahmoud Ahmadinejad," and the "former International Spokeswoman for the Universal Zulu Nation";
The 2006 illegal immigration rallies were coordinated by Big Labor, especially SEIU;
Osama bin Laden quoted an anti-American study financed by George Soros;
Code Pink activists delivered $600,000 to "the other side" in Fallujah — and Rep. Henry Waxman helped them do it;
Code Pink returned to Iraq for a "peace" rally with pro-jihadist Iraqi politicians; and
American leftists set up a center in Baghdad to encourage U.S. soldiers to become "conscientious objectors" and get sent home.
Although he was the Managing Editor of FrontPage Magazine (2004-2010) and previously its Associate Editor (2003-2004), Ben is a consistent conservative who believes in limited government, the sanctity of human life, and the traditional family as the bedrock of society.
He is co-author of Party of Defeat (Spence Publishing, 2008), with David Horowitz, and the author of two books on Teresa Heinz Kerry's funding political causes with tax-exempt funds: 57 Varieties of Radical Causes: Teresa Heinz Kerry's Charitable Giving (2004), and Teresa Heinz Kerry's Radical Gifts (2008).
You can contact him here.